Promoting Historical Thinking and Critical Literacy through Historical Challenges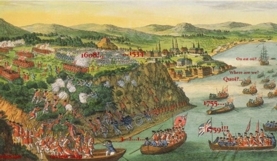 What is historical literacy? Why is it important? Read this short article (from S. Lévesque, Canadian issues, winter 2010).
Learning history is far more engaging than memorizing dates!...
The VH 2.0 was designed to engage students in their own learning of history, to assist them in developing historical thinking competencies. It proposes an innovative approach for the transfer of learning and the application of knowledge through inquiry-based activities known as "historical challenges".


To know more about "historical thinking and why it matters" watch this short video from expert Sam Wineburg.


The VH 2.0 situates learning in an active and practical context. All historical challenges are designed to promote inquiry skills, historical knowledge acquisition and the development of critical thinking and literacy skills. To assist students in their strategic and analytical practices, the VH 2.0 offers various learning tools and scaffolds including worksheets, lexicons, and interactive learning guides.

For each lesson activity, practical activities engage students in high cognitive challenges. These challenges build on a series of intellectual processes and key concepts well recognized in history education.

Among these processes used in the VH 2.0 are**:
- Adopting an inquisitive and open-minded attitude toward the past and different ways of life
- Establishing the historical significance of the past
- Using primary and secondary source evidence to infer knowledge
- Identifying continuity and change in history
- Analyzing the causes and consequences of actions and events in history
- Taking historical perspectives and developing historical empathy
- Understanding the ethical dimension of history
- Developing critical literacy skills
Research indicates that learners will not develop indepth understanding and disciplinary competencies when lessons and activities do not provide them with explicit performance goals and tasks. The VH 2.0 follows a conceptual structure of backward design derived from the work of Wiggins and McTighes (2005).
It operates on the following model: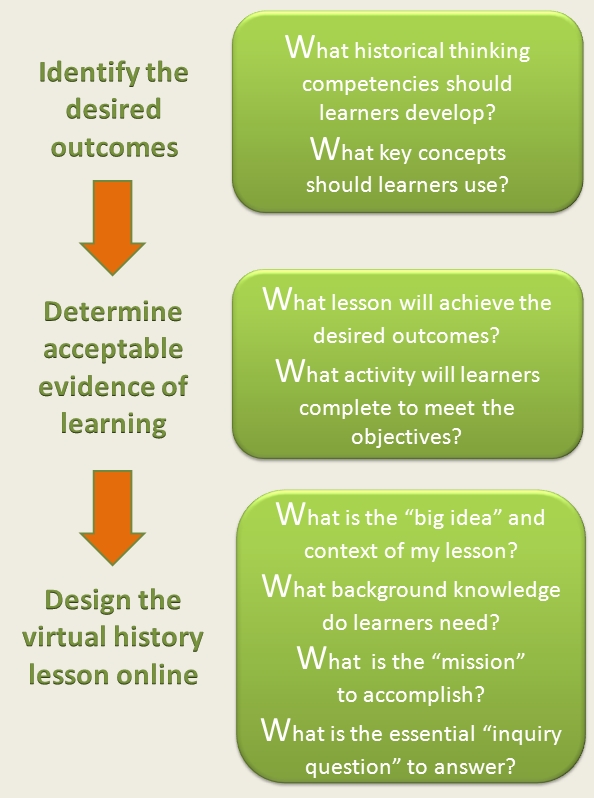 *Adaptation of Wiggins, G., and McTighe, J. (2005). Understanding by Design, 2nd Edition. Association for Supervision and Curriculum Development.
**Many of these intellectual processes and concepts are developed in collaboration with The Historical Thinking Project.